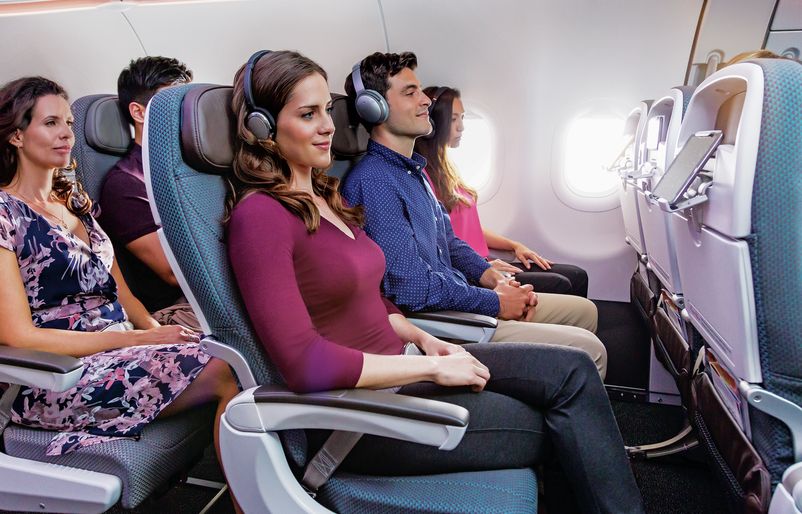 SpaceX made its official entry into the in-flight connectivity (IFC) service provider marketplace this month, with JSX and Hawaiian Airlines subsequently announcing deals to use the company's Starlink satellites on their aircraft.
Starlink is a constellation of satellites in Low-Earth Orbit (LEO) that provides broadband internet service in areas where terrestrial options are too expensive, unreliable, or unavailable. At the beginning of 2022, Via Satellite reported that Starlink serves more than 145,000 users in 25 countries and regions.
"Pretty fly for a WiFi. First antenna installed and testing. Rapid deployment once certification achieved," Alex Wilcox, CEO of JSX, tweeted on April 22 to announce the California-based public charter air carrier's new deal with SpaceX.
The majority of routes operated by JSX are between airports located in California and southwestern destinations, with a fleet of 77 total Embraer 135s and 145s. The JSX brand is a subsidiary of private charter JetSuite, and it focuses on providing short-haul flights at prices that compete with commercial airline business cabin fares. The company previously had committed to becoming the launch customer for the SmartSky Networks IFC service.
Jonathan Hofeller, who serves as vice president of SpaceX, has also discussed the company's plans for in-flight connectivity services in several public appearances over the last year.
During a virtual appearance on a Connected Aviation Intelligence panel discussion about LEO satellite IFC for aviation services, Hofeller said the company has developed its own IFC terminal that leverages its phased array consumer antenna for aviation.
"High-speed, low-latency internet is critical in our modern age, and during air travel is no exception," Hofeller said in a statement, commenting on the JSX agreement. "With Starlink, we're able to provide an internet experience similar to or better than what passengers experience at home. We are creating a future that when all customers walk on to the plane, the internet just works – no hassles, no logins. By being the first air carrier to adopt Starlink, JSX is setting this new standard for air travel."
Several days after the JSX announcement, Hawaiian Airlines unveiled its own new agreement with SpaceX to add Starlink connectivity to its fleet of Airbus A330 and A321neo aircraft, as well as the Boeing 787-9s it currently has on order.
Hawaiian's fleet of Boeing 717s that operate shorter inter-island flights will not be equipped with Starlink IFC terminals. According to the airline's 2021 annual report filing, Hawaiian's in-service fleet consists of 24 total A330-200s and 18 A321neos, with 10 total 787-9s on order under a 2018 purchase agreement with Boeing.
Peter Ingram, CEO of Hawaiian Airlines, discussed the Starlink agreement during the company's first quarter earnings call, held on April 26, noting that the Starlink IFC speeds will "support fast web browsing and streaming that we've gotten used to on our devices on the ground."
Ingram expects aircraft modifications for the new service to begin next year, and will have more details about when the first Starlink IFC-equipped passenger carrying flight will occur later this year. "We will be deploying it with a simple interface and free of charge to all our guests for however many devices they are accessing on board. We have deliberately trailed the industry in deploying in-flight connectivity because current and previous generations of products perform below our standards over the Pacific, where most of our time in-flight is spent," he said. "Until now there was no offering that provided a superior product to match the rest of our in-flight experience. Starlink changes this, and we think our guests will be delighted when they have the chance to experience it."