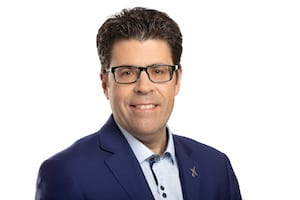 On this episode of the Global Connected Aircraft Podcast, we caught up with Jean-François Parent, head of engineering and chief engineer for the Airbus Canada Limited Partnership's A220 program.
The chief engineer explains how the A220 and all Airbus airliners are designed to prevent air contamination under normal operating conditions. When at cruising altitudes, the cabin air is a mix of fresh air drawn from the outside of the aircraft and passed through High-Efficiency-Particulate Arrestors (HEPA) filters designed to remove particles in the air down to the size of microscopic bacteria and virus clusters.
The air that is supplied to aircraft lavatories and cargo compartment is evacuated overboard, preventing any return of contaminated air in the cabin. The forward and aft cabin air is distributed from the top of the cabin through airflow channels integral to the passenger baggage overhead bins. It is extracted at floor level. There is no flow forward or rearward along the cabin.
As airline passengers begin to slowly get back on aircraft, this discussion can help explain how a modern airplane keeps their cabin air clean and refreshed.
New and innovative technologies featured on the A220 are also discussed in this episode.
Airbus recently opened its first A220 final assembly line at its Mobile Alabama production site, the second assembly site for the A220 in addition to its program headquarters in Mirabel, Canada.
Have suggestions or topics we should focus on in the next episode? Email the host, Woodrow Bellamy at wbellamy@accessintel.com, or drop him a line on Twitter @WbellamyIIIAC.
Listen to this episode below, or check it out on iTunes or Google Play If you like the show, subscribe on your favorite podcast app to get new episodes as soon as they're released.