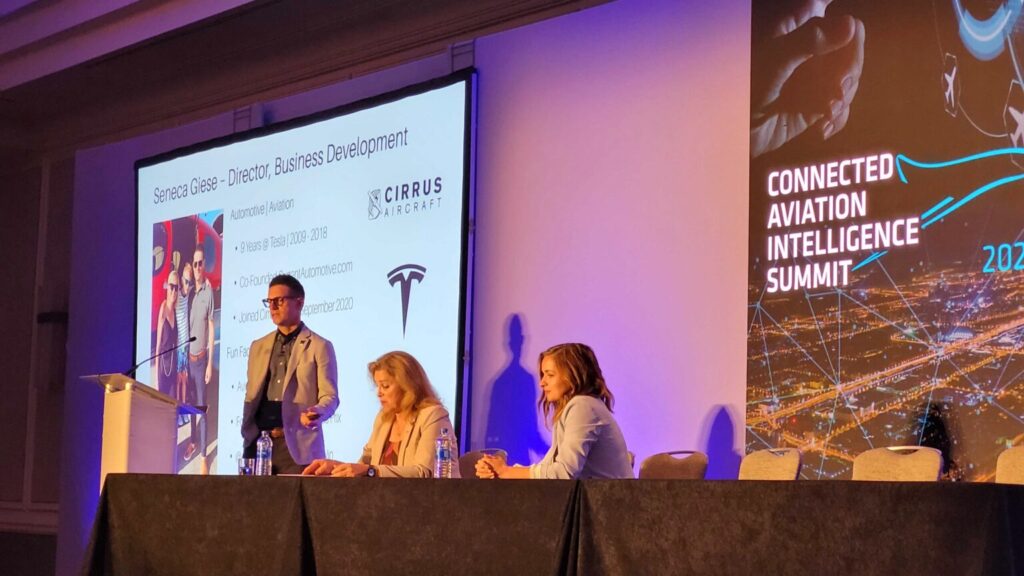 By Jeffrey Hill
Airbus Americas Vice President of Research and Technology Amanda Simpson confirmed Friday that the manufacturer is conducting research on inter- and intra-satellite optical link technology with universities in California.
During a speech at the Connected Aviation Intelligence Summit in Reston, Virginia, Simpson told attendees that she had just returned from a trip to visit Airbus' research partners to learn about the latest developments in strengthening satellite communication signals to ground systems, aircraft, and other satellites.
"This is all about making automation possible," said Simpson. "Today's cockpit is already very automated, but Airbus sees the future of aviation relying much more heavily on AI and machine learning for more decision-making during flight. This added autonomy involves AI making choices based on data that may not give us the same result every time. This creates a question that is challenging to answer — How do you learn to trust that algorithm?"
Airbus has several research partners in California, including the University of Southern California, with which it partnered to establish the Airbus Institute for Engineering Research (AIER) in 2013. The Institute is based at the USC Viterbi School of Engineering.
Simpson, who also serves on the American Institute of Aeronautics and Astronautics' Systems Engineering Technical Committee, said Airbus and its research partners are exploring new methods on how to strengthen secure bandwidth connections within next-generation satellites and to and from other ground and aviation systems.
"We're looking at direct optical links between satellites," she said. "Laser communications between satellites are limited to the strength of the signal. But we've been looking at phase modulation for the beams in order to increase the power of that signal. We're also conducting research on how that would work in the atmosphere."
In addition to working with universities, Simpson said Airbus is working with certifying agencies around the globe to establish trust in satellite-powered AI and ML applications. "I'm not just talking about aircraft," she said. "We want to connect helicopters and satellites and we want to trust that those connections work securely."
Airbus Americas serves as the U.S. arm of its Airbus S.A.S parent company based in France. The division is central in the development of Airbus' Unified Airbus Network Solution, which is designed to utilize satellite data and networking technologies to help reduce airlines' operating costs. Airbus sees autonomous flight as the key to fuel cost savings and operational efficiencies for airlines, supporting pilots in strategic decision-making and mission management.
Simpson joined Seneca Giese, director of Business Development at Cirrus Aircraft and Francesca Stockton, Aviation Connectivity product manager for Verizon Robotics, at the event for talks about its next-generation technology development plans.
Cirrus Aircraft has long been a customer of Iridium Communications, which powers its Cirrus Global Connect service, providing worldwide weather, satellite phone and text messaging services to the aircraft cabin. In January 2020, Cirrus released its Cirrus IQ app, which gives aircraft pilots the unique ability to check the status and performance of their aircraft remotely from their smartphone with a globally accessible digital connection. Cirrus IQ provides pilots with pre-flight status information, including fuel and oxygen levels, battery voltage, oil temperature, aircraft location, and flight hours.
Verizon Robotics acts as a connectivity use case factory for the aviation world. It is developing technologies and mixed fleet robots that create maps from drone data and provide autonomous navigation capabilities. In October, Verizon Robotics' cellular carrier parent company announced it formed a collaborative partnership with Amazon to expand the carrier's rural 5G and 4G LTE networks via Amazon's upcoming Project Kuiper constellation.
Editorial Note: This article was first published by Via Satellite, one of the two publications that helps to present the Connected Aviation Intelligence Summit, it has been edited, click here to view original version.