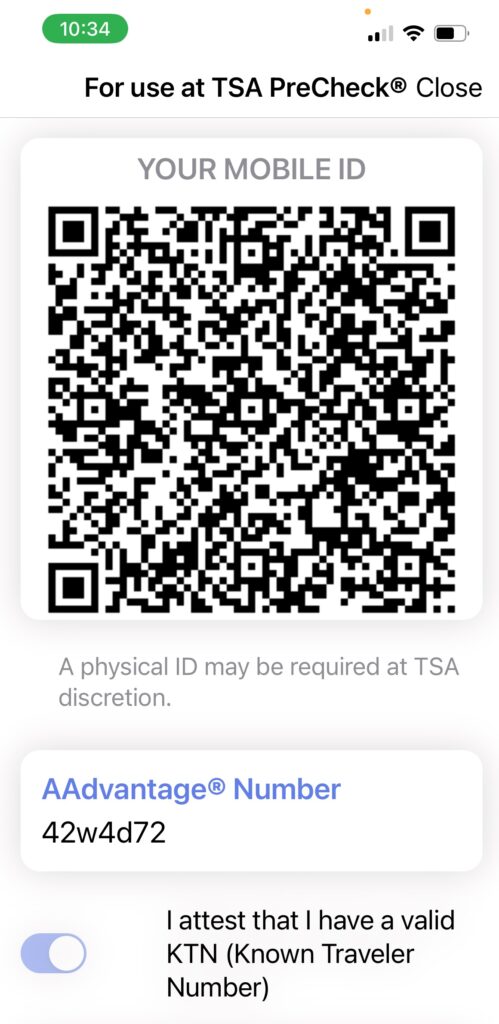 American Airlines recently launched a 60-day pilot project in partnership with the Transportation Security Administration at Dallas Fort Worth International Airport that will evaluate the use of a mobile phone application and facial recognition technology to replace the need for physical identification such as driver's licenses and passports at checkpoints.
According to a June 22 announcement launching the "American Airlines Mobile ID" pilot, the optional trial will instruct American's passengers to download the Airside Digital Identity application and verify their identification by scanning their driver's license or passport and entering their AAdvantage number—American's passenger loyalty program. Airside's application uses an identification system provided by Thales that compares the passenger's passport or driver's license information with the passport's embedded near field communication chip or against the individual state's digital Department of Motor vehicles record for the passenger.
Once this process is completed and the passenger arrives at the airport, they are then instructed to present a QR code on their phone and consent to sharing their mobile identification with TSA. American claims that the entire process at the airport "typically takes less than five seconds."
Amol Deshmukh, Vice President Solutions, Thales, told Avionics International that the driving force behind the launch of the Mobile ID pilot with American Airlines was to create a more touchless airport checkpoint experience for airline passengers. The Thales executive notes that the technology is not necessarily a new concept, but rather an opportunity for all of the stakeholders involved to understand how they can streamline some of the checkpoints passengers go through in airports.
"Thales is acting as the trusted mobile digital identity technology provider in this case," Deshmukh said. "We verify that the data coming in is authentic and genuine, and we're able to verify the issuance trace of each passenger's ID or passport."
The American Airlines Mobile ID project, which began in June, is occurring with voluntary American passengers flying out of DFW initially. American has also committed to deploying the technology at Miami International Airport (MIA), Phoenix Sky Harbor International Airport (PHX), Washington Reagan National Airport (DCA), and more airports later this year.
Several other airlines and airports have been increasingly deploying facial recognition, biometrics, and other touchless checkpoint technologies throughout the world as well. The trend was especially accelerated by the COVID-19 pandemic driving airports and airlines to seek methods for reducing passenger touchpoints along their journey.
Another aspect of deploying the American Airlines Mobile ID technology considered by Thales and all of the other partners involved is the privacy of passengers' personal information.
"The entire process is consent driven from a passenger standpoint. They're consenting to share the data through this QR code from their phone with TSA and TSA only. Once their Mobile ID is verified through our system, that Mobile ID only exists within their phone, you cannot duplicate it, and sharing it with TSA occurs through an encrypted data feed toward the TSA CAD device. TSA then performs their own verification at the airport, and does not actually store that data once they're done it gets deleted."
American has not provided a timeline as to when they will consider expanding the Mobile ID technology to other airports.