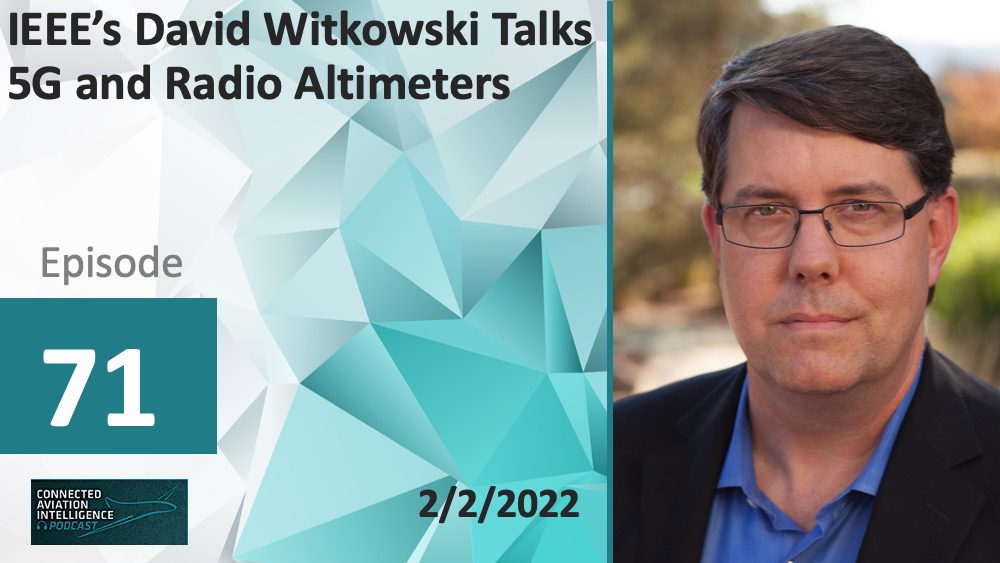 On this episode of the Connected Aviation Intelligence Podcast, we discuss the ongoing work between the aviation and telecommunication industries regarding the deployment of 5G C-Band services and the associated interference issues that deployment presents for some aircraft radio (or radar) altimeters.
Since November, the Federal Aviation Administration (FAA) and aviation industry leaders have been trying to establish a long-term solution that will allow 5G C-Band wireless services and flight operations to safely co-exist. The central issue on both sides of the 5G C-Band deployment results from the close proximity of the new 5G services from AT&T and Verizon in the 3.7-3.98 GHz band and the 4.2-4.4 GHz band where aircraft altimeters reside.
Witkowski, who chairs the Deployment Working Group of the IEEE Future Networks initiative, provides some perspective as to why the deployment of 5G C-Band services should not be a major concern for airlines, while also suggesting some possibilities for a long-term solution that could satisfy both the aviation and telecommunication sides of the debate.
Have suggestions or topics we should focus on in the next episode? Email the host, Woodrow Bellamy, at wbellamy@accessintel.com, or drop him a line on Twitter @WbellamyIIIAC.
Listen to this episode below, or check it out on iTunes or Google Play If you like the show, subscribe on your favorite podcast app to get new episodes as soon as they're released.