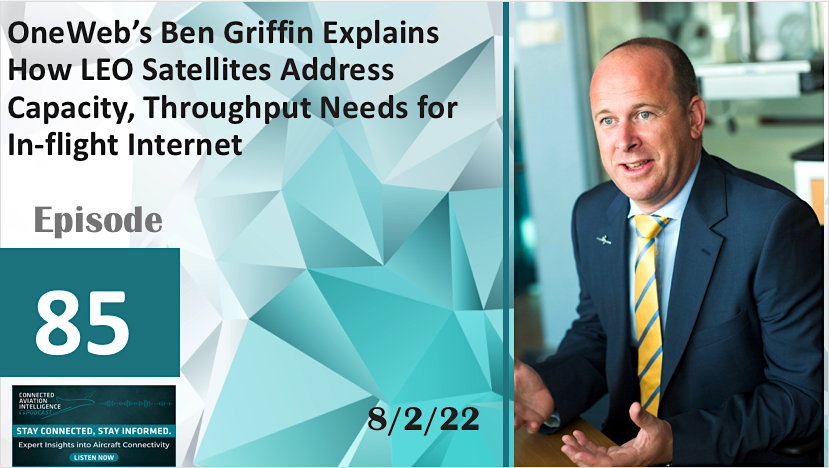 On this episode of the Connected Aviation Intelligence Podcast, Ben Griffin, Vice President of Mobility Services, OneWeb, joins to discuss how the introduction of their Low-Earth Orbit (LEO) satellite could provide a paradigm shift for in-flight internet service in the near future.
Last week, Eutelsat and OneWeb reached an agreement to combine, bringing together satellite assets in Geostationary Orbit (GEO) and Low-Earth Orbit (LEO) for multi-orbit service. Since this interview was conducted on the day of this major announcement, the discussion does not focus on the Eutelsat-OneWeb agreement; however, Griffin does provide some initial reaction on how the partnership might benefit their plans for in-flight connectivity (IFC) in the future toward the end of the conversation.
Griffin does explain why their LEO constellation a perfect match for IFC service because of the amount of capacity the systems will make available, low latency, and global coverage, including over the polar regions. The OneWeb executive also provides perspective on how the company is evaluating the results of a recent test of their partially completed LEO network conducted on a Boeing 777.
Listen to this episode below, or check it out on iTunes or Google Play. If you like the show, subscribe on your favorite podcast app to get new episodes as soon as they're released.