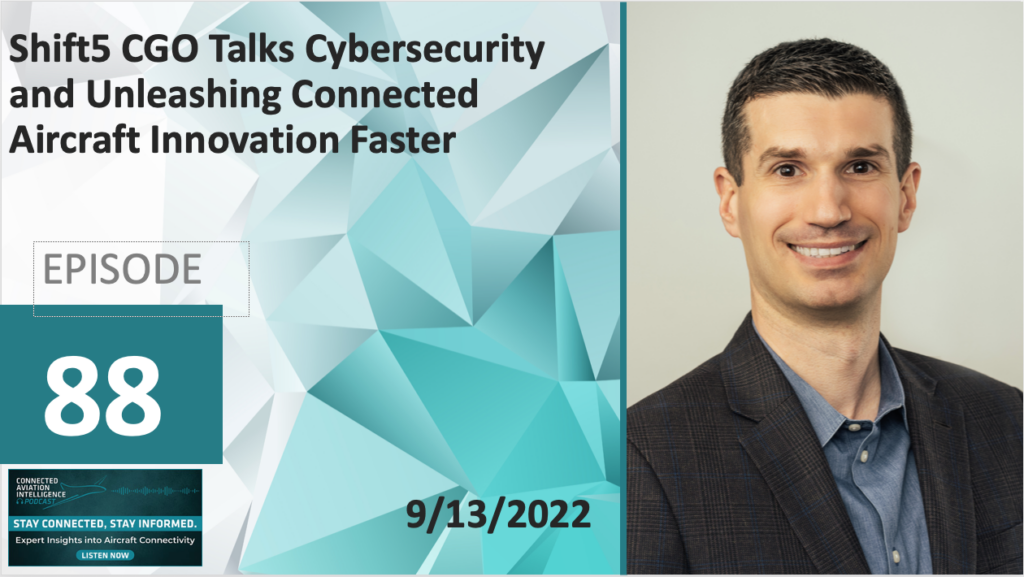 On this episode of the Connected Aviation Intelligence Podcast, Shift5 Chief Growth Officer and co-founder Michael Weigand is the guest.
Shift5 is a cybersecurity company that focuses on protecting transportation and military infrastructure and assets from cyberattacks. The company was co-founded in 2018 by Weigand and Josh Lospinoso, a former US Cyber Army Officer who previously founded RedOwl Analytics, which was acquired by Raytheon/Forcepoint in 2018.
Weigand is responsible for executing Shift5's long-term growth objectives. Prior to Shift5, Michael served eight years in the US Army as an Airborne, Ranger qualified, Infantry officer and was selected as one of the first Cyber operations officers.
He discusses some of the certification and innovation challenges faced by companies developing new electronics software and systems for aircraft which has typically lagged behind advancements in other markets.
Check out this excerpt from the interview below, where the Shift5 CGO compares advancements in other technology markets and how they compare to aviation:
"There are some companies out there doing an amazing job providing aircraft connectivity and other solutions. But the pace of software development that we all take advantage of in our professional lives and where we've seen disruption in the automotive industry where we can push over the air software updates, and advance functionality and user features and benefits in a car—think of advances made by Tesla and other manufacturers that are incorporating a lot of those concepts into their newer offerings—we just don't yet see or have that in the aviation space. A big part of that is regulation. How do we ensure that things are tested and are safe to the levels of requirements and performance expectations that we have in aviation? But candidly, I just think there is a way to achieve both of these things. To deploy especially software features and functionality and advancement faster and provide more value while also maintaining safety. I don't think that we've even begun to scratch the itch there in aviation." 
This episode is sponsored by Shift 5.
Shift5 is the OT cybersecurity company that protects the world's transportation infrastructure and weapons systems from cyberattacks.

Listen to this episode below, or check it out on iTunes or Google Play. If you like the show, subscribe on your favorite podcast app to get new episodes as soon as they're released.