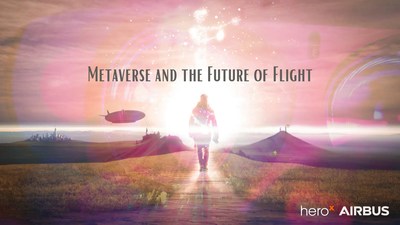 On April 26, Airbus, the Toulouse, France-based commercial and military aircraft manufacturer, launched a new engineering design challenge involving the use of metaverse technology to improve the commercial airline passenger experience.
The design challenge has been launched under a partnership between Airbus and HeroX—the New York-based online crowdsourcing platform—and targets the use of augmented and virtual reality among other innovative new digital technologies to elevate the commercial air traveler experience from "departure to destination," according to an April 26 press release. HeroX describes the Metaverse as "an embodiment of the internet as a virtual or digital world that is experienced through the use of digital tools, including augmented reality (AR) or virtual reality (VR)."
"Innovation is part of our DNA," Marc Fischer, SVP Cabin and Cargo Engineering, Airbus, said in a statement. "We have a long history of pioneering new technologies. Metaverse is an unknown world and we'd like to understand how it can elevate our passengers' experience. This challenge is a perfect start."
As a company, HeroX describes itself as providing a platform where its clients, such as Airbus in this case, design challenges around problems they observe that need to be resolved. HeroX then provides an open marketplace where engineers, developers, artists, and project-specific applicants develop demonstrable solutions for the challenge proposed.
Guidelines provided by Airbus for the challenge note that the company is open to anything that "improves a passenger's experience, whether your idea provides a new way to complete a task, increases accessibility, or offers a service that was previously not available." Among the examples of passenger experience applications that could be elevated using metaverse technology include seat assignments, meals, and in-flight entertainment (IFE) options.
Other suggestions include metaverse-immersed in-flight gaming, helping disabled or injured passengers that have seat-accessibility issues, and collaborative social networking tools. The company is requiring applicants to provide a proof-of-concept with their submission such as a video walk-through or visualization tools such as story-boarding and animation.
"Airbus will recognize five winners with a total prize purse of $30,000," the company writes in the challenge posting. "The team submitting the most compelling vision for how the metaverse can improve the passenger experience will win $10,000, and four other teams will win $5,000 each."
Designers and developers have until June 14 to apply via the HeroX website, with winners scheduled to be announced on July 19, 2022.