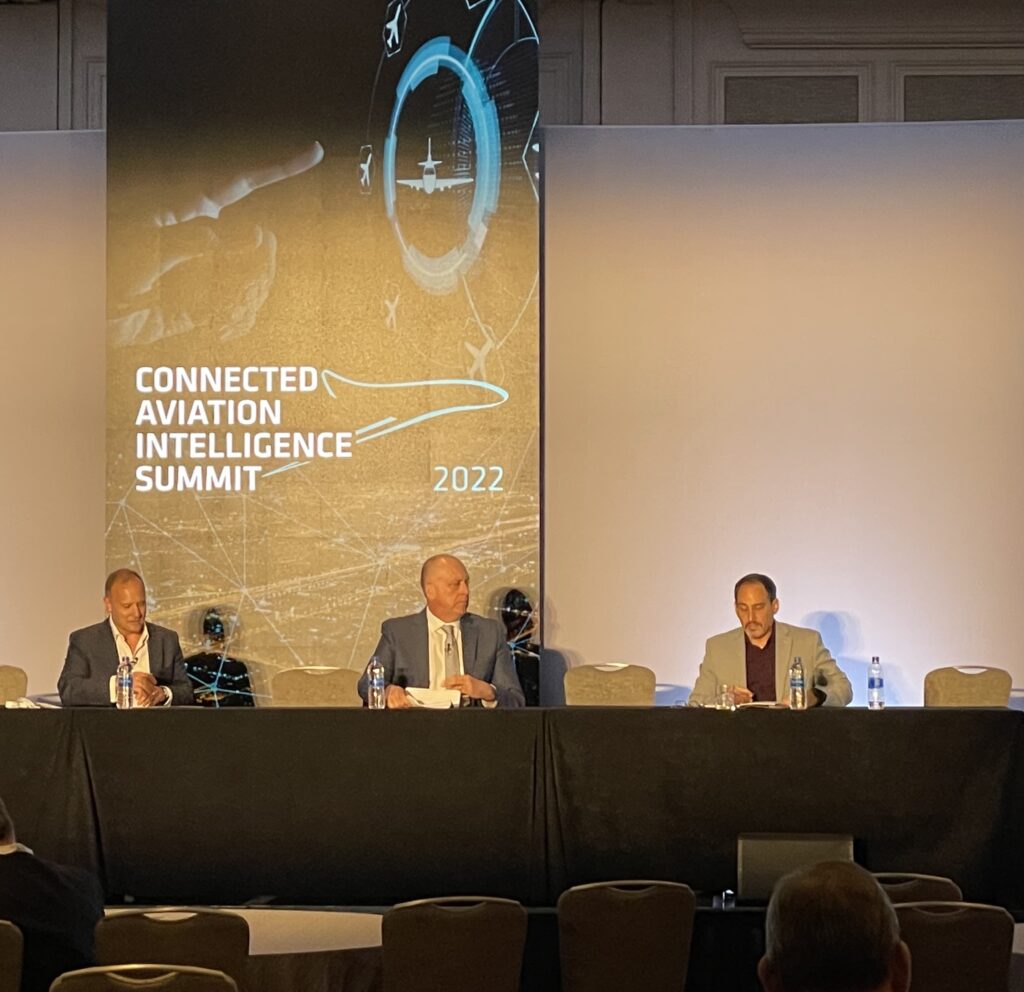 GE Aviation, SmartSky Networks, and Mosaic ATM have been working together since January to connect cloud-based flight management systems (FMS) with airborne FMS. At the Connected Aviation Intelligence Summit last week, representatives from each company revealed the progress made through this collaboration and what they expect to achieve in the coming months.
The teams from GE, SmartSky, and Mosaic are currently finishing the experimental plan and software development, which should be completed within the next two to three months, according to Todd Kilbourne, Senior Program Manager, Mosaic ATM. In August, they expect to begin simulations of the use cases for trajectory negotiation at SmartSky's lab in Virginia. Following the successful completion of these simulations, a flight test will be conducted to validate the results.
"We've set it up so we can implement this digital twin on three aircraft in a simulated lab. We'll have one aircraft for the flight test and two simulated aircraft that have this digital twin concept in the simulation lab, and we'll see how all that works together," Kilbourne said.
In 2023, the collaboration may begin exploring additional use cases beyond trajectory negotiation like conflict detection and continuous descent arrivals. With the digital twin concept, said SmartSky's Britton Wanick, VP Marketing & Partnerships, "we're able to take a cloud-based FMS and have information from the airborne FMS, but also have access to a lot more [data] and share it across the entire ecosystem to address a variety of different use cases."
These efforts are part of a NASA Innovation Award. Phase I of the project included SmartSky and Mosaic; GE Aviation joined as a partner for Phase II, which will continue until the end of 2023.
"We brought in GE Aviation because they have a modular functional FMS that is very compatible for this project," explained Kilbourne. "It had an onboard component but also a component that could be easily hosted on the cloud."
Mosaic, an air traffic modernization and optimization company, is building extensions to the cloud that will add functionality and is also creating interfaces to simulations of an air traffic management (ATM) system and an airline operations system.
In joining Mosaic and SmartSky for Phase II of this project, GE Aviation's team made it a priority to enable offboarding of capabilities and reduce reliance on the computer onboard the aircraft. One of the problems in the aviation industry is that computing power installed on an aircraft rapidly becomes outdated, remarked Gary Goz, Navigation Systems Product Director at GE Aviation. "We want to add new capability and new functionalities to the flight management system; we're constantly adding new capabilities, [but] we run out of computing resources very quickly," he said.
Addressing this issue involves considering what safety-critical pieces are required to be onboard. Goz mentioned flight planning as an example of an area where efficiency can be improved. Pilots carry electronic flight bags (EFBs) onboard to use for finding optimal flight plans, but the information they are using isn't available to the avionics system. "We're striving to connect data that's available outside avionics into the avionics themselves, and being able to use that technology outside of the avionics system," he explained.
GE already has the capability to simulate the FMS on the ground—a digital twin version, essentially—and their current focus is linking onboard systems with the simulated system.
There is aircraft data that is only available to the aircraft, including optimal trajectory models, Kilbourne added. Synchronizing that data with a cloud-based digital twin version would result in a more accurate model. The high-resolution weather data, air traffic constraints, and other information that is only available on the ground will enable automation systems to provide more accurate trajectory predictions.
"The ground automation systems involved in air traffic control, air traffic management, and flight operations all use different customized trajectory models for calculations. I've been working on these for over 25 years and constantly hear things like, 'I wish we had more information from the aircraft,'" said Kilbourne.
Providing more information from the aircraft to air traffic control would improve the ability to deconflict routes, Gary Goz stated. This information includes fuel levels, aircraft weight, and performance characteristics, which are not currently available to air traffic control. By offboarding the ability to optimize routes and deconflict traffic, he added, aircraft will be able to avoid common problems like holding patterns and entering congested areas. 
Goz noted that for the GE Aviation team, the concept of a cloud-based FMS is part of a larger envisioned ecosystem. Such an ecosystem includes connected flight management systems solutions like providing the pilot's EFB with the same interaction and data that are provided to the digital twin on the ground or in the cloud. When you have these components stitched together, Goz said—"The cloud, connected FMS, ATC—you have all the same data at your fingertips to be able to make decisions about trajectories and deconfliction."
There is the potential for increased risk when enabling such capabilities, he commented. Cybersecurity is a key issue that the team has taken into account from the start.
Advanced air mobility (AAM) is an emerging space of interest for GE's Aviation division, Goz noted. "There's a need there," he said. "It's still very fluid. Things are starting to solidify in some areas, especially around how we manage traffic. This technology could grow quickly once you've proven it out in that space you could advance it."
Mosaic's Kilbourne is also confident that the cloud FMS technology and architecture will transfer to AAM. Although the space is slightly different from commercial and business aviation, there is compatibility in AAM with the developments that Mosaic, GE, and SmartSky are working on.
"The FAA doesn't necessarily control the traffic in some of these UAM corridors," Kilbourne said. "They have regulatory oversight, but there will be centers where the service providers that oversee these UAM airspaces will handle operations for flights within their control."
In addition to the progress made in collaboration with GE and SmartSky, Todd Kilbourne shared that Mosaic ATM has been awarded a new Small Business Technology Transfer (STTR) Phase I from NASA to collaborate with a university partner. The focus of this project is creation of a toolkit for urban air mobility (UAM) communications management. The first component of the toolkit is a path loss prediction tool using a machine learning (ML) model, which will be trained using data from ray tracing software.
"We're also going to develop an architecture for UAM comm that would be a robust architecture, could combine satellite communication, ground communication, and even air-to-air communication. [Our] recommendations could move the industry forward in designing a useful, robust architecture for UAM," he shared.