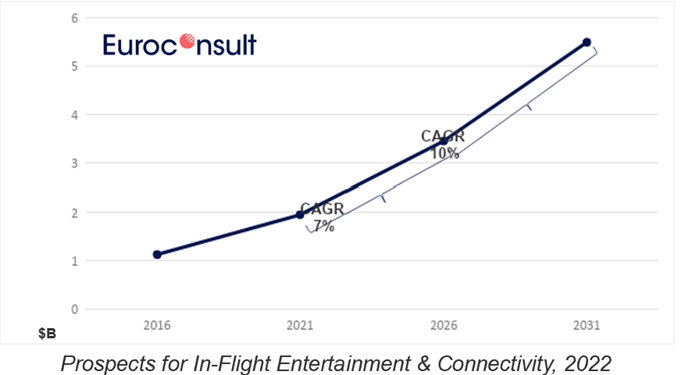 The number of commercial aircraft featuring in-flight internet services is expected to double within the next decade, according to the latest in-flight connectivity (IFC) market outlook report published by Euroconsult. According to the report published earlier this month, there were 9,900 commercial aircraft connected to in-flight services by the end of 2021, and that number is projected to more than double to 21,000 by 2031.
"While not returning to pre-2019 levels, in-flight connectivity showed strong signs of uptake in the year with 120 commercial airlines offering in-flight connectivity to passengers with a total bandwidth capacity consumption rising to an unprecedented 24 gigabytes per second," Euroconsult notes in their release of the new report.
The projected demand for connectivity on new commercial aircraft and the number of airlines offering in-flight internet services as tracked by Euroconsult was only a slight increase over what they projected and tracked in 2020. Last year, Euroconsult reported a total of 9,000 commercial aircraft featured in-flight connectivity (IFC) operated by 115 total airlines, based on data they collected in 2020.
The projected growth in the market last year was for that number to grow to between 16,000 and 20,000 connected aircraft by 2030. A year later, in their 2021 report, Euroconsult notes that a series of in-flight connectivity (IFC) service provider mergers and acquisitions have placed those companies in better financial positioning to pursue new contracts that lead to "as many as two dozen signed by the end of 2021 involving the equipping of a combined total of 1,500 aircraft."
Among the most significant IFC-related mergers and acquisitions that have occurred in recent years include Intelsat's acquisition of Gogo's commercial aviation business and Viasat's proposed acquisition of Inmarsat that is currently undergoing review by several international regulatory agencies. In July, Eutelsat and OneWeb revealed details of their own merger agreement that will bring together their satellite assets in Geostationary Orbit (GEO) and Low-Earth Orbit (LEO) for multi-orbit service.
Despite all the merger and acquisition activity occurring though, Euroconsult still expects the IFC market to become more competitive in the near future driven by "evolving technologies that are likely to drive down capacity pricing." Euroconsult's IFC researchers believe the adoption of "competition satellite constellation architectures"—such as LEO satellites—will lead to an upsurge in bandwidth availability.