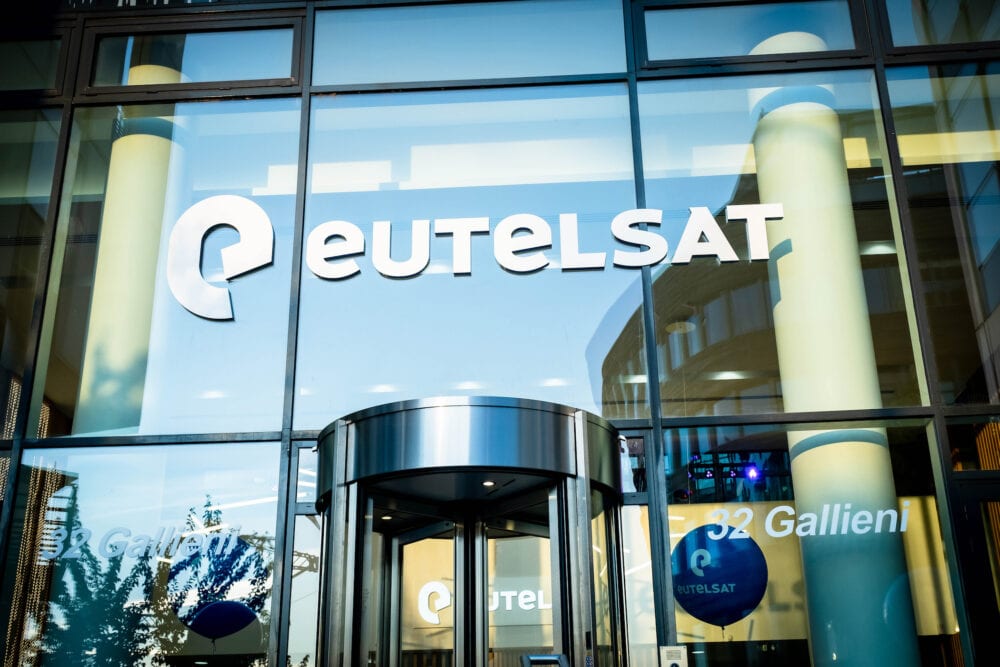 Eutelsat and OneWeb have reached an agreement to combine, bringing together satellite assets in Geostationary Orbit (GEO) and Low-Earth Orbit (LEO) for multi-orbit service. The companies announced the news early Tuesday, a day after sharing that talks were underway. Analysts told Via Satellite that they agreed with leaders from both companies that Eutelsat's generative CapEx could help the combined company achieve its long-term goal of building a higher-capacity second-generation LEO constellation that competes with rival systems. 
The deal is a memorandum of understanding (MoU) to combine the companies in an all-share transaction. Eutelsat shareholders and OneWeb shareholders would each hold 50% of the Eutelsat shares.
Eutelsat and OneWeb said this will allow them to take advantage of growth opportunities for combined GEO/LEO satellite service. They project revenue for the combined company at 1.2 billion euros ($1.2 billion) in fiscal year 2022/23, with revenues growing annually in the low double-digits over the next decade, and mid-teen annual revenue growth over the medium to long-term.
"It represents a transformation for our company, creating a platform for strong growth for the next decade to come for the combined entity. It presents a unique, first integrated LEO/GEO player," Eutelsat CEO Eva Berneke said Tuesday on a call with investors. "The deal is in line with our long-held commitment to continue to support OneWeb and step up when the occasion is right. The occasion is right now."
This another step in collaboration between the companies, after Eutelsat invested in OneWeb in April 2021, and upped its investment in October 2021. It is another example of large consolidation in the satellite industry among operators, as Viasat is in the midst of a deal to acquire Inmarsat. 
Details of the Transaction
The transaction would be structured as an exchange of OneWeb shares by its shareholders (other than Eutelsat) with new shares issued by Eutelsat. Under this structure, Eutelsat would own all of OneWeb at closing, excluding a 'special share' for the U.K. government. OneWeb shareholders would receive 230 million newly issued Eutelsat shares representing 50% of the enlarged share capital.
Eutelsat said the MoU was unanimously approved by Eutelsat and OneWeb's boards and long-term investors including Bpifrance, Fonds Stratégique de Participations, Bharti, the U.K. government, SoftBank and Hanwha. CMA CGM, a shareholder of Eutelsat, is also supporting the proposed combination.
OneWeb will continue to operate its LEO business under its existing name and its headquarters will remain in the United Kingdom. Eutelsat will continue to be headquartered in France, listed on Euronext Paris and would apply to trade on the London Stock Exchange.
Berneke, who took the helm of Eutelsat as CEO in January, will continue as CEO of the combined entity. Dominique D'Hinnin, chairman of Eutelsat's board, would be proposed as chairman of the combined entity, with OneWeb board chairman Sunil Bharti Mittal as co-chairman. The full board would consist of 15 members including ten independent directors. Seven directors, in addition to the CEO of Eutelsat, proposed by Eutelsat, and seven directors proposed by OneWeb.
The transaction is expected to close by the end of the first half of 2023.
The LEO/GEO Opportunity
The companies see growing demand for satellite connectivity, with the market at about $4.3 billion in 2020, growing to $15.6 billion in 2030, according to Euroconsult analysis. Growth is projected to come from consumer broadband, mobility, government, and fixed data.
To meet this demand, Eutelsat and OneWeb the two companies are progressing on a joint technical and regulatory work for future hybrid GEO/LEO infrastructure including ground infrastructure, technology, and design of OneWeb Gen 2 constellation.
"From a LEO perspective, this combination is very important by bringing together these two technologies. LEOs offer global coverage and low-latency connectivity. So there's a combination of the two technologies that bring together high capacity, global coverage, high resiliency, and also importantly low latency. The combination of these two enables many use cases, and unlocks demand across multiple segments," said OneWeb CEO Neil Masterson.
The companies laid out a roadmap Tuesday to integrate their offerings, starting in the present with Eutelsat reselling OneWeb's LEO capacity as a standalone product. By the end of 2022, they expect to bundle LEO/GEO for customers. In the next two to three years, they project a "mutualized network" with tools and next-generation antennas. The final step, four to five years out, is when OneWeb's Gen-2 is fully operational it will support fully integrated offerings with intelligent routing capabilities.
"We can make a much more efficient Gen-2 by combining the LEO/GEO assets together," Masterson said. "What we're seeing in particularly that we're already serving, particularly [North of the 50th parallel] is that today we do not have enough capacity to to meet the needs of those markets — and that's before the growth in demand that will be experienced in those markets. We are highly confident that as much capacity that we can provide will get consumed in those regions in particular."
Eutelsat's stable video revenues will support CapEx deployment for OneWeb's Gen-2 constellation, Berneke said.
"Broadcast, which is most effectively addressed by GEO, will represent 40% of revenues in the financial year '25. In spite of a slight erosion, it's also a strong generator of cash flow to be reinvested in the high-growth verticals," she said, outlining revenue of the combined company. Two high growth verticals are B2B connectivity, which will be the largest part of the business, standing around 50% of the combined revenues in '25. And then, B2C connectivity, which initially will represent 10% of revenue, with an even higher future cash generation potential."
Cash-Generative Eutelsat Could Secure OneWeb Success, Analysts Say
The deal shores up financing for OneWeb's higher-capacity Gen 2 constellation and diversifies Eutelsat's revenues, which are heavily dependent on broadcast, analysts say.
Nathan De Ruiter, managing director of Euroconsult, tells Via Satellite that Eutelsat's growing focus on connectivity makes sense amid a decline in video revenues.
"OneWeb has already secured several marquee distribution partnerships with a variety of ISPs and specialized satellite providers, substantially firming up its distribution network across most key vertical markets and regions, which is interesting for a global operator like Eutelsat looking forward," De Ruiter said. "For OneWeb, having the cash-raising potential of Eutelsat going forward is key as it continues to invest in its constellation [including] gateway network, user terminal solutions, and as it progressively turns its attention to a second generation constellation to augment its competitive positioning.
Ben Lyons, a satellite equity analyst at Credit Suisse tells Via Satellite the deal signals that Eutelsat is increasing its exposure to low latency connectivity, which could help OneWeb succeed with a cash-generative business backing the venture. Lyons estimates the market has room for about three large-scale high throughput satellite (HTS) constellations before returns start to become value destructive, and this could secure OneWeb's place.
"We see this deal as a way for OneWeb to finance the Gen2 constellation given the limited throughput of Gen 1 and to pursue a multi-orbit strategy. I think the company is looking more long term than what they have right now," he said. "If a Gen2 constellation is developed with higher throughput, I think we could begin to see some more interesting opportunities in the government and enterprise space. Multi-orbit technologies are expected to mature over the coming years and being able to offer that could be a unique selling point."
Yet Lyons still has questions given the capital expenditure requirements likely needed going forward. "Strategically, moving into multi-orbit is a good move in terms of the customer offering, but unfortunately it very much does depend on the price. LEO constellations are very capital intensive and will require a very large amount of free cash to make those investments worthwhile. The combined group is guiding for average CapEx of between 725-875 million euros between FY24-30E. This is a doubling of the current CapEx envelope Eutelsat has, so they will need to grow revenues significantly over the next decade."
This deal is a further example of horizontal consolidation in the satellite industry, after the Viasat/Inmarsat deal. More horizontal and vertical consolidation is expected, De Ruiter says.
"The satcom industry has continued and perhaps accelerated its deep transformation in recent months in an increasingly competitive environment. Despite changes in the industry, horizontal integration deals have remained relatively limited in recent years, but vertical integration has accelerated in recent months as satellite operators increasingly focus on offering end-to-end services," De Ruiter said. "With the rapidly growing importance of constellations in connectivity markets impacting the industry, an increasing number of players are looking at a multi-orbit strategy to expand their business. This could potentially lead to more horizontal consolidation in coming years."
This article was first published by Via Satellite, one of the two publications behind the Connected Aviation Intelligence Summit. Click here to view the original article.