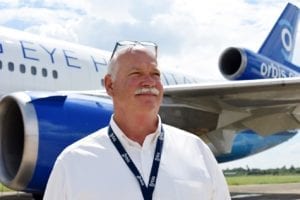 Orbis International operates the world's only Flying Eye Hospital, an MD-10 converted into an ophthalmic hospital and teaching facility that flies to developing nations around the world to bring training local doctors and nurses.
On this episode, we speak with Bruce Johnson, director of aircraft operations for Orbis International, about the connectivity that powers this unique aircraft. Johnson discussed the process of reconfiguring the MD-10, the sensors and networks necessary to monitor sensitive medical equipment onboard, and how the aircraft turns into a teaching hospital — broadcasting lessons live — wherever it lands.
Listen to the episode below, or check it out on iTunes. If you like the show, subscribe on your favorite podcast app to get new episodes as soon as they're released.