On the first of this new four-part podcast series, we discuss the economic and operational impact of the outbreak of the COVID-19 coronavirus on the commercial airline industry.
Guests on this episode include the following: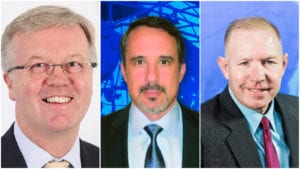 Brian Pearce, chief economist, International Air Transport Association (IATA)
Mike Blades, Vice President of Aerospace, Defense, and Security Americas Region, Frost & Sullivan
Timothy Kuder, Senior Commercial Aerospace Industry Analyst, Frost & Sullivan
After a brief introduction and some updates, at (time stamp), Pearce gives a breakdown of what the organization describes as a "liquidity crisis" that the airline industry is facing as a result of the travel restrictions that have been established by civil aviation regulators across major flight information regions such as Europe, the Middle East, and North and South America.
By clicking here, you can access the presentation that Pearce is referencing in his comments and follow along to the information that he is referring to.
After Pearce's presentation, we gain more insight into how the COVID-19 coronavirus is impacting airlines during a discussion with Blades and Kuder of Frost & Sullivan.
Have suggestions or topics we should focus on in the upcoming episodes as part of this new series? Email the host, Woodrow Bellamy at wbellamy@accessintel.com, or drop him a line on Twitter @WbellamyIIIAC.
Listen to this episode below, or check it out on iTunes. If you like the show, subscribe on your favorite podcast app to get new episodes as soon as they're released.
Don't forget to check out www.gcasummit.com for more information on the Global Connected Aircraft Summit, as we determine how to safely proceed with the event.