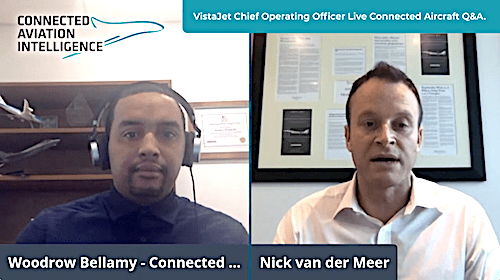 On this episode of the Connected Aircraft Podcast, we feature my question and answer session with Nick Van der Meer, Chief Operating Officer of VistaJet from the recent Connected Aviation Intelligence two-day live program that can be viewed on-demand here.
Van der Meer discusses the deployment status and schedule for VistaJet's new in-flight connectivity technology, LuxStream, across their global fleet of private jets. Vista Global – the parent company of VistaJet and XO – became the launch customer for LuxStream in September 2019, bringing in-flight Internet speeds of up to 25 Mbps in the United States and 15Mbps globally via SES's managed Ku-band satellite network exclusively to business aviation operators.
The current VistaJet fleet includes 60 aircraft based in Malta with 29 total Global 6000s and the remaining spread across Challenger 850s, 605s, and 350s. In the U.S. they have a fleet of Global 5000s and eight Challenger 350s along with the XO fleet of Citation Xs and Challenger 300s.
Have suggestions or topics we should focus on in the next episode? Email the host, Woodrow Bellamy at wbellamy@accessintel.com, or drop him a line on Twitter @WbellamyIIIAC.
Listen to this episode below, or check it out on iTunes or Google Play If you like the show, subscribe on your favorite podcast app to get new episodes as soon as they're released.