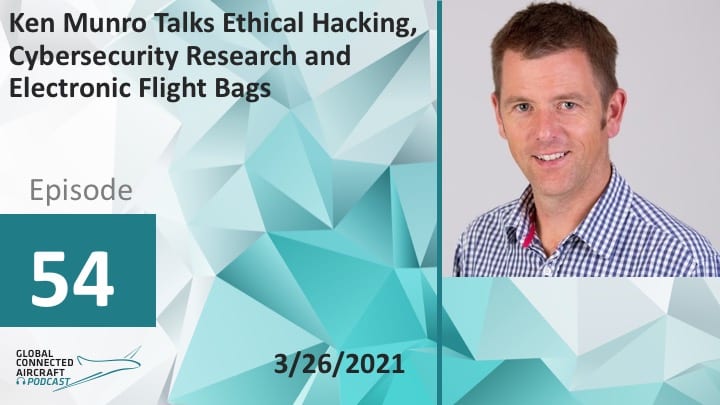 On this episode of the Connected Aircraft Podcast, Ken Munro, founder of U.K.-based ethical hacking consulting and security services firm Pen Test Partners joins to discuss some of the latest research he's been doing around connected electronic flight bags (EFB) and aircraft systems.
Munro is a well-known public speaker who has performed live demonstrations of vulnerabilities that have been exposed on Internet of Things (IoT) devices and systems. He is a security entrepreneur and industry maverick that has worked in infosec for over 15 years. He is a regular speaker at events held by industry bodies and associations and has spoken at the ISSA Dragon's Den, (ISC)2 Chapter events and CREST (Council of Registered Ethical Security Testers) events, where he sits on the board, helping to establish standards in both member organizations and among individual penetration testers.
We discuss some of the potential consequences of the manipulation of data used by pilots by a malicious hacker, as outlined in his recent blog post, and just how important the testing and assessment of EFB security is.
Have suggestions or topics we should focus on in the next episode? Email the host, Woodrow Bellamy at wbellamy@accessintel.com, or drop him a line on Twitter @WbellamyIIIAC.
Listen to this episode below, or check it out on iTunes or Google Play If you like the show, subscribe on your favorite podcast app to get new episodes as soon as they're released.