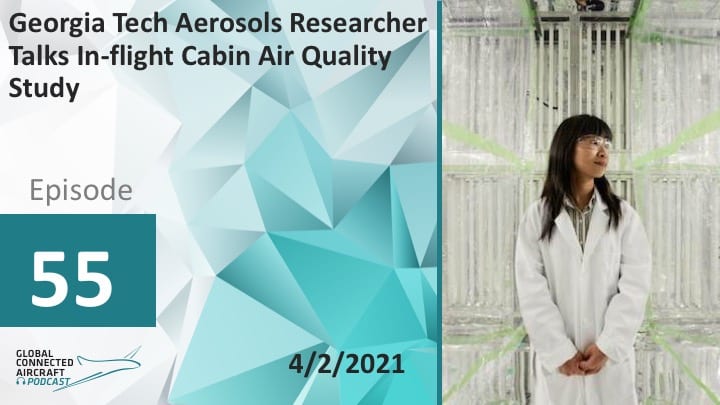 On this episode of the Connected Aircraft Podcast, Sally Ng, associate professor for the School of Chemical and Biomolecular Engineering at the Georgia Institute of Technology, joins to discuss the results of a study on in-flight cabin air quality recently published in the Journal of Indoor Air. Supported by Delta Air Lines, the research may be the first to comprehensively measure particle concentrations likely to be encountered by passengers from terminal to terminal.
To better understand the circulation of airborne particles, Delta approached Ng to conduct a study of multiple indoor environments, with a strong focus on air travel conditions. Using handheld instruments able to measure the total number of particles and their mass, Georgia Tech researchers examined air quality in a series of Atlanta area restaurants, stores, offices, homes, and vehicles — including buses, trains, and private automobiles.
They trained Delta staff to conduct the same type of measurements in terminals, boarding areas, and a variety of aircraft through all phases of flight.
In all, the researchers evaluated measurements from 19 commercial flights with passenger loads of approximately 50 percent. The flights included a mix of short- and medium-length flights, and aircraft ranging from the CRJ-200 and A220 to the 757, A321, and 737.
Have suggestions or topics we should focus on in the next episode? Email the host, Woodrow Bellamy at wbellamy@accessintel.com, or drop him a line on Twitter @WbellamyIIIAC.
Listen to this episode below, or check it out on iTunes or Google Play If you like the show, subscribe on your favorite podcast app to get new episodes as soon as they're released.
>