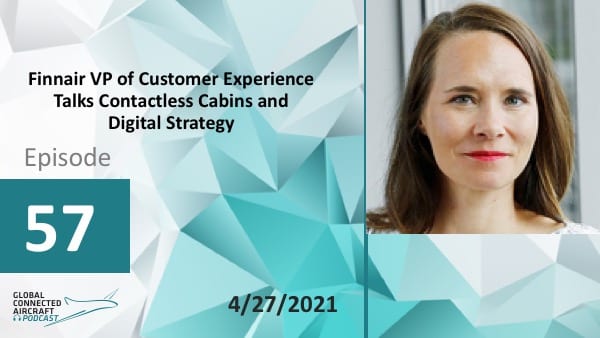 On this episode of the Connected Aircraft Podcast, Tiina Tissari, Vice President of customer experience at Finnair, joins to discuss some of the adjustments made by the Nordic airline over the last year under the impact of the COVID-19 pandemic on air travel in Europe.
Finnair continues to operate a limited network and expects gradual passenger demand recovery to begin around the third quarter, according to their April 27 interim report. While there is still some uncertainty ahead for Finnair, like most European airlines, the carrier is re-opening passenger flights to New York after a break of almost one year and has maintained a relatively strong reputation with its passengers, holding a Net Promoter Score of 54 between January and March 2021.
Tissari provides some perspective on how Finnair is making its passenger experience more contactless with new digital technologies onboard and at the airport, among other changes that they're enacting.
Have suggestions or topics we should focus on in the next episode? Email the host, Woodrow Bellamy at wbellamy@accessintel.com, or drop him a line on Twitter @WbellamyIIIAC.
Listen to this episode below, or check it out on iTunes or Google Play If you like the show, subscribe on your favorite podcast app to get new episodes as soon as they're released.