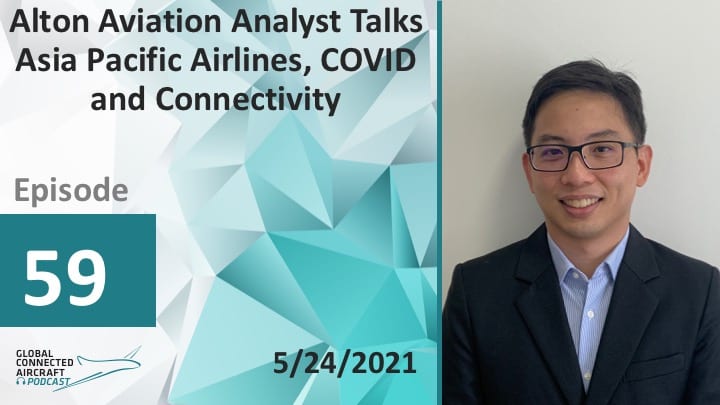 On this episode of the Connected Aircraft Podcast, Joshua Ng, director of Alton Aviation Consultancy joins to provide some perspective on the state of the commercial airline industry in the Asia Pacific region, among other topics.
Alton Aviation Consultancy is an independent advisory firm that has advised some of the world's largest airlines, aircraft manufacturers and investors throughout Asia, the U.S. and Europe. You may have seen analysis from Alton in publications like Bloomberg or The Business Times for example.
Joshua discussed how some airlines in the Asia Pacific region are adjusting to the impact of COVID-19 on passenger air travel demand and the status of the air cargo market as well.
Based on his observation and consulting with airlines and others across the aviation industry in the region, he also discusses some of the new in-flight services such as ancillary revenue services that airlines could enable with connectivity in the near future.
Have suggestions or topics we should focus on in the next episode? Email the host, Woodrow Bellamy at wbellamy@accessintel.com, or drop him a line on Twitter @WbellamyIIIAC.
Listen to this episode below, or check it out on iTunes or Google Play If you like the show, subscribe on your favorite podcast app to get new episodes as soon as they're released.