In-flight connectivity (IFC) topics were a central point of focus during last week's Connected Aviation Intelligence (CAI) Summit, held in Reston, Virginia. Representatives from Air Canada, Panasonic Avionics, Intelsat Corp, and Stellar Blu Solutions discussed the value of satellite technology for in-flight entertainment (IFE) offerings. Another panel including representatives from Breeze Airways, El Al Airlines, and ST Engineering iDirect featured next-generation strategies for increasing bandwidth to support in-flight connectivity (IFC).
On the final day of the CAI Summit, Colton Snow, Vice President of Product and eCommerce for Sun Country Airlines, delivered the keynote presentation regarding the airline's current un-connected in-flight passenger experience strategy. There are multiple use cases for IFC, Snow conceded, such as enabling connectivity for the cabin crew to increase aircraft safety and reliability, or for processing on-board transactions and eliminating issues with declined payment methods. However, he said, none of these are compelling enough at this point to drive an investment from Sun Country into the technology.
"In the long-term, there are catalysts that will move us to in-flight connectivity," Snow explained. One of these is a change in customer expectations. Fewer than 0.5% of passengers from Sun Country mention Wi-Fi in their feedback submitted through surveys. At some point in the future, once more customers include access to IFC in their decision-making criteria, it would justify an investment into the technology.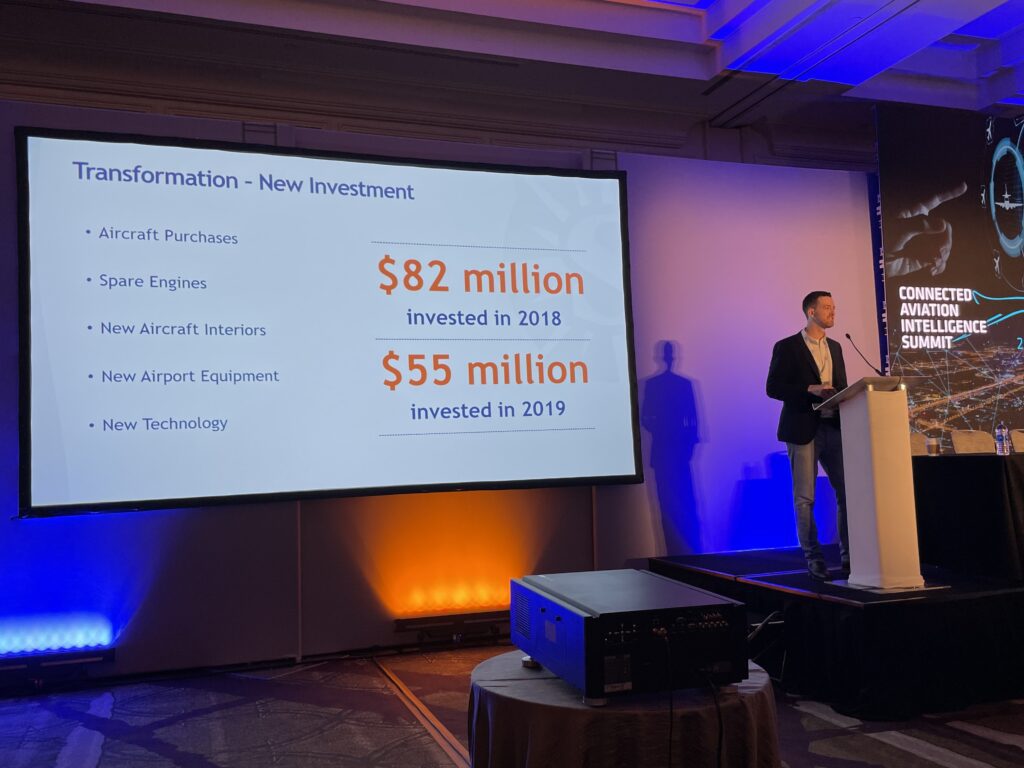 A significant portion of the customer base for Sun Country Airlines is leisure travelers; 97% of the markets served are seasonal. Popular destinations include Aruba, Honolulu, Turks & Caicos, and St. Thomas. For leisure customers, Snow stated, streaming and entertainment cover the bases for their in-flight experience. The target customer demographics for the airline are 46- to 51-year-olds, married, and earning a household income of $97,000 to $107,000. "These customers ultimately care about getting value," he said. They value low fares and a good in-flight experience. As an ultra low-cost carrier (ULCC), Sun Country has to maintain low costs to ensure low fares. Snow explained, "This creates a high bar for capital intensive investments in the onboard experience, like in-flight connectivity, that may not have a tangible or direct ROI that we can manage or own."
To compete with other ULCCs such as Allegiant and Frontier, Sun Country aims to balance low fares with a positive in-flight experience by offering a free beverage service, in-seat power, and free streaming of IFE content to passengers' personal devices. The company had three choices in their approach to IFC and IFE, Snow explained: do nothing, offer streaming of IFE, or offer both IFE and internet access. For leisure travelers that are visiting friends or going on vacation, having Wi-Fi on board does not offer as much value as the option to watch TV or movies while in flight. "Lots of folks travel other airlines for business and expect connectivity," he added.
"We experimented with in-flight tablets but found they required more maintenance, and most folks prefer to bring their own tech onboard like smartphones, tablets, or laptops," Brian Davis, chief marketing officer for Sun Country, told Avionics in an emailed statement last year.
The cost of offering in-flight connectivity is also major point of consideration for the airline. With such a strong focus on low fares, the cost passed on to customers for IFC must be minimal. "We would really have to go forward with a strategy where it was baked into the cost of the fare," Snow remarked in his keynote presentation.