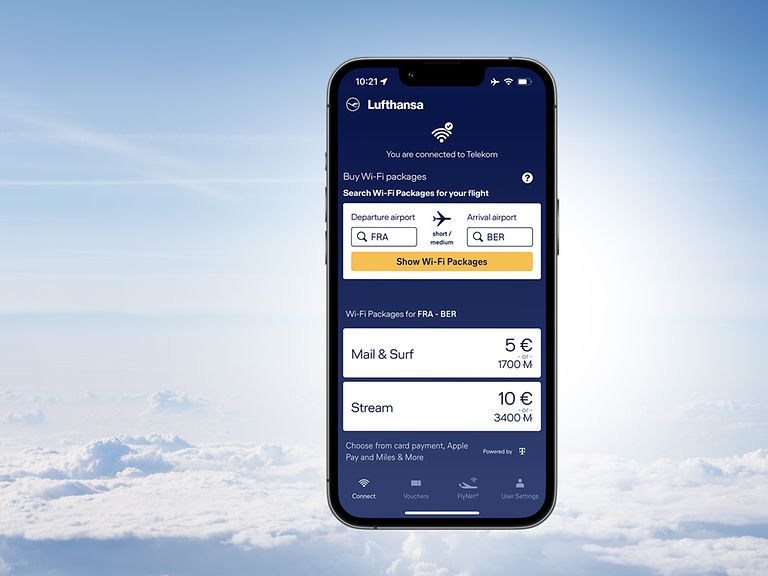 Lufthansa has rolled out a new smartphone application developed by Deutsche Telekom called "FlyNet" designed to make the purchasing and use of in-flight internet on short- and long-haul flights a three-step process for passengers.
FlyNet is accessed by passengers on their Android or iOS devices and allows them to purchase Lufthansa's in-flight Internet packages "at any time before or during the flight," according to a June 28 announcement of the rollout. The German telecommunications provider is also allowing logins to the app through Lufthansa's "Miles and More" frequent flyer program.
A key aspect of FlyNet highlighted by Deutsche Telekom is how it allows passengers to purchase an in-flight internet access package prior to boarding.
"Most airline passengers find the use of Wi-Fi on board still complicated, that's why we made it our goal to simplify the experience from the ground up. In-flight connectivity should work like the internet at home, be easily accessible and create additional value for passengers," Rolf Nafziger, Senior Vice President of Deutsche Telekom Global Carrier, said in a statement commenting on Lufthansa's rollout of FlyNet.
FlyNet's introduction for Lufthansa comes amid a period of increased airline passenger demand for the German carrier, which recently responded to a surge in passenger demand by announcing a decision to reactivate some of the A380 aircraft it placed in storage in Spain and France during the pandemic. The first A380s are scheduled to return to service for Lufthansa beginning next summer, and the airline has some 50 new Airbus A350, Boeing 787, and Boeing 777-9 long-haul aircraft and more than 60 new Airbus A320/321s on order within the next three years.
Lufthansa is making FlyNet available currently "on an ever increasing number of flights within Europe and to and from North Africa and the Middle East," according to its website.
"We are very pleased to offer the new Lufthansa FlyNet App to our passengers. Internet on board is a great service," Oliver Schmitt, Senior Vice President Loyalty & Ancillary Services for Lufthansa Group, said in a statement. "The Lufthansa FlyNet App will make internet access even easier, attract customers to our FlyNet portal and it will therefore improve their travel experience."