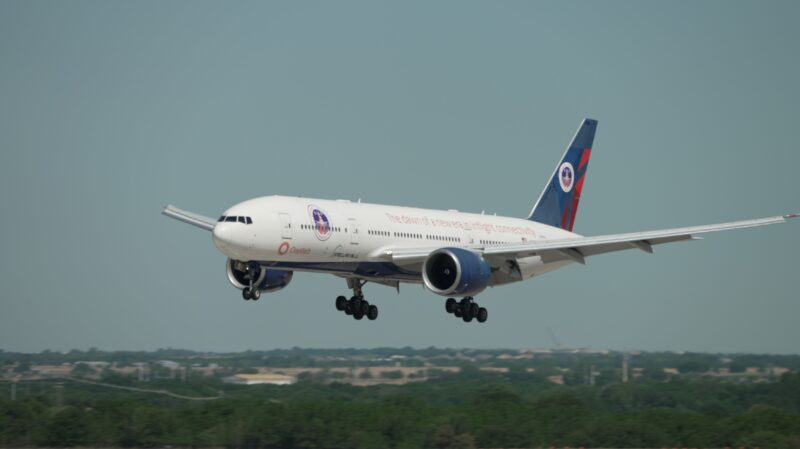 By Mark Holmes
OneWeb and Stellar Blu Solutions have delivered high-speed, low-latency inflight LEO satellite connectivity to a commercial airliner, the two companies announced June 14. This first test flight was conducted aboard a Boeing B777-200LR and took off from Fort Worth Alliance Airport (KAFW), in Texas on May 27th at 15:20 UTC and flew for just over one hour delivering this connectivity experience.
Stellar Blu, has partnered with antenna technology provider Ball Aerospace to incorporate its electronically steered arrays (ESA) into the terminal solution. The new Stellar Blu platform, known as 'Sidewinder', will continue flight testing through the remainder of 2022, with a target for certification and availability in mid-2023. This maiden flight represented the culmination of several months' collaboration between Stellar Blu, OneWeb and Ball Aerospace including ground trials and flight tests.
The test flight crew simultaneously demonstrated the ability to connect Teams calls, 4K YouTube streaming, Netflix, online VR gaming and Nintendo Switch gaming, among other structured performance tests. Maximum speeds of 260Mbps download/80 upload and file transfer scenarios of 5GB demonstrated in approximately 20 seconds. All while operating at well under 100ms of network latency.
"This test flight represents a fantastic milestone for OneWeb. Broadband in-flight connectivity, delivered to a commercial aircraft via LEO satellites and an ESA is now – finally – a reality. Together with our partners Stellar Blu and technology from Ball Aerospace, we are now well and truly on our way to delivering consistently reliable, game-changing, affordable inflight connectivity to commercial aviation users everywhere," Ben Griffin, vice president Mobility, OneWeb said in a statement.
This article was first published by Via Satellite, one of the two Access Intelligence publications behind the Connected Aviation Intelligence Summit.