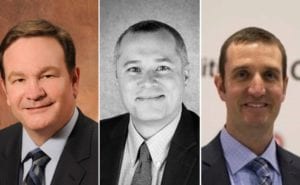 On the fourth and final episode of this new four-part podcast series, we feature discussions with connectivity professionals on various aspects of how the COVID-19 coronavirus global pandemic is impacting aviation.
Guests on this episode include the following:
Tom Schmutz, CEO, Flyht Aerospace Solutions Ltd.
Mike Pigott, Senior Vice President Connectivity Solutions, Global Eagle Entertainment
Jason Wissink, Senior Sales Director, Connected Aircraft, Honeywell Aerospace
At 1:38, we feature comments made by Schmutz during the FLYHT Aerospace quarterly earnings call that occurred Apr. 9, where he discusses how the COVID-19 travel restrictions and impact on the airline industry is impacting his company's ability to supply technologies and how he sees the impact playing out moving forward.
At 13:40, Pigott describes how Global Eagle has been working in support of airline customers that are grounding their airplanes and his expectation for the long-term appetite airlines will have for operational and passenger-facing connectivity.
At 35:55, Wissink provides some insight on how Honeywell recently supported the connected enablement of a reconfigured Boeing 767-300 normally operated by the New England Patriots that was used to transport more than one million N95 masks to the U.S. from China.
Have suggestions or topics we should focus on for our next episode? Email the host, Woodrow Bellamy at wbellamy@accessintel.com, or drop him a line on Twitter @WbellamyIIIAC.
Listen to this episode below, or check it out on iTunes. If you like the show, subscribe on your favorite podcast app to get new episodes as soon as they're released.