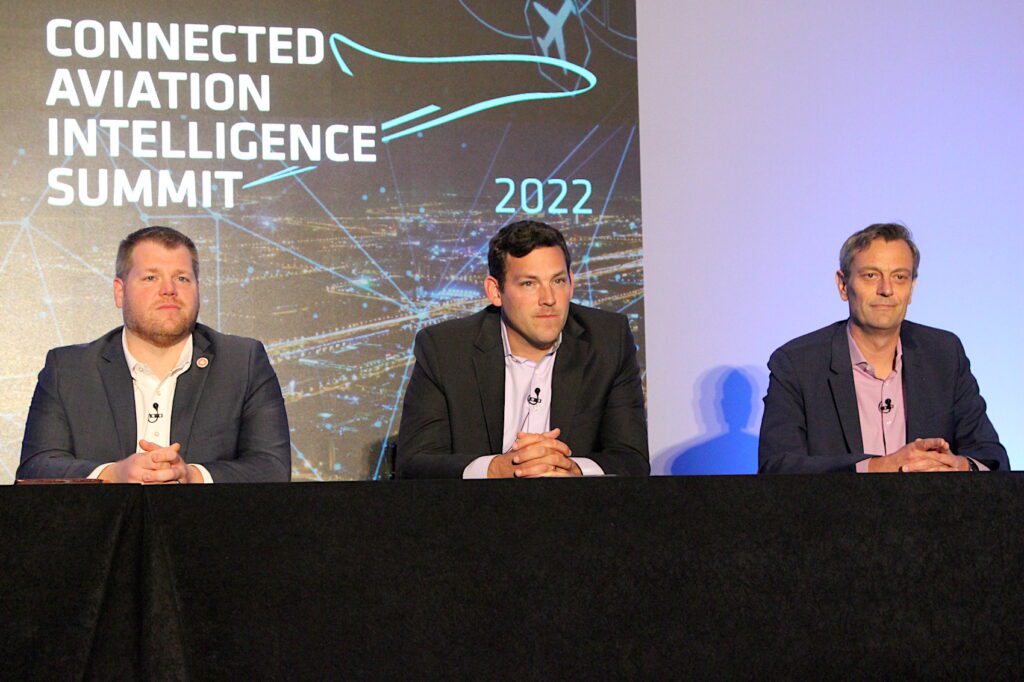 By Aaron Karp
SpaceX's top Starlink executive is leading the drive to convince airlines that Low-Earth Orbit (LEO) satellite-powered in-flight internet services would be superior to current offerings in terms of speed, ease of use, and the ability to provide widespread, consistent coverage—even for transoceanic flights.
Speaking on a panel at the Connected Aviation Intelligence conference earlier this month, Starlink Vice President of Commercial Sales Jonathan Hofeller said current in-flight internet services powered by Geostationary (GEO) satellites will not be able to keep up with the connectivity demands of airline passengers, particularly younger consumers.
The Starlink constellation of more than 2,330 LEO satellites powers internet service for 400,000 consumers and enterprises in 32 countries. Starlink this year has inked deals with Hawaiian Airlines and JSX, a California-based Part 135 public charter operator, to begin equipping aircraft with its LEO-powered in-flight connectivity (IFC) service in 2023. Hawaiian's service will be free for passengers.
Hofeller said aviation is a potentially significant market for LEO-driven internet services that Starlink is actively targeting, noting that beyond the Hawaiian and JSX contracts are "several more [airline agreements] in the works."
He added: "We're obsessive about the passenger experience. We're going to be on planes here very shortly, so hopefully passengers are wowed by the experience."
The key differentiator between GEO- and LEO-powered internet services for airlines will be the low latency of LEO options, Hofeller said, explaining that consistent, high-speed connectivity comparable to the "home experience" is not possible with GEO satellites.
"We're transitioning from a download-heavy model to more of a symmetric type of environment," he said. "If you look to the future and you believe two-way communication is important, then that latency becomes extremely important, whether it's co-editing documents or doing real-time FaceTime calls … There are a lot of applications where latency is super important to being productive on an aircraft."
For this reason, airlines will consider moving to LEO-driven services, according to Philippe Schleret, vice president of aviation for Telesat, the Canadian satellite operator that aims to equip aircraft with LEO IFC capabilities by 2026. "We see a lot of excitement with the airline community about the prospect of having the IFC services over LEO networks," he told the Connected Aviation Intelligence conference. "It's really about bringing a superior quality of experience at an affordable price. [LEO can] enable free services with higher throughput and a lot of features. We're pretty bullish about the prospect of having the vast majority of airline IFC traffic over LEO ultimately."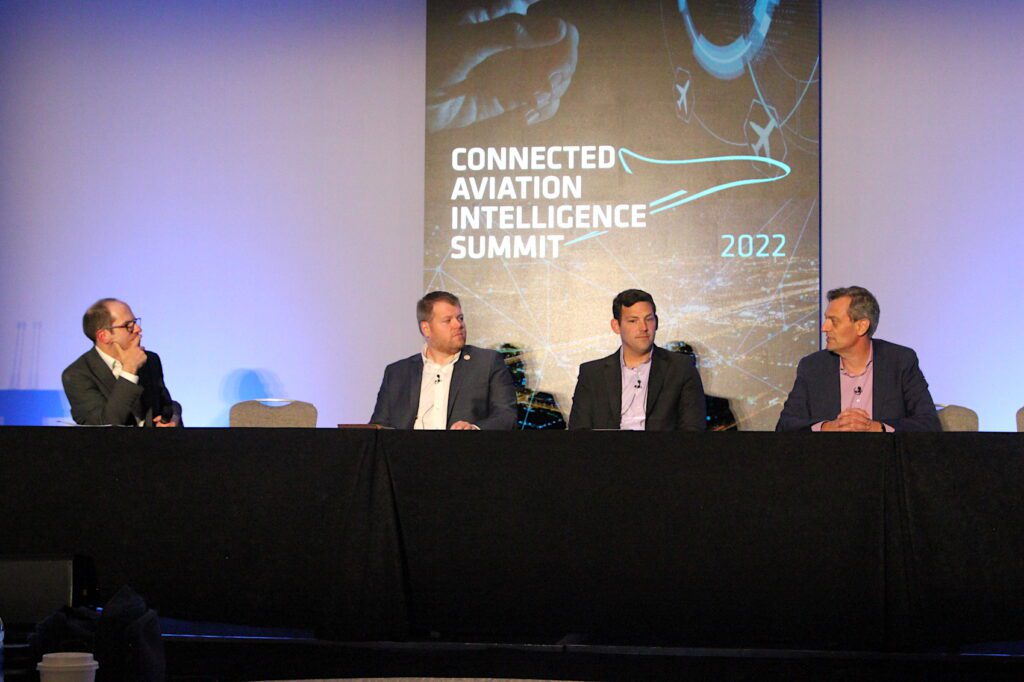 Another panelist, OneWeb's Market Development Director for Business Aviation Jason Sperry, predicted that LEO-powered IFC will be commonplace in the 2030s. "By 2030, you'll see a considerable amount of aviation traffic on LEO networks," he said.
Like Starlink, UK-based OneWeb aims to be offering LEO-driven IFC services on aircraft by 2023, but it has not yet announced any agreements with airlines.
Sperry said airlines are concerned with what he calls "the five Cs" when it comes to IFC: cost, coverage, capacity, connection, and consistency. All of these will be improved by LEO-based services, he added.
"You're really going to see an adoption by the airlines," Sperry said. "The passenger experience matters and airlines really want to provide a passenger experience that will continue to allow that customer to come back to that airline and not go to another airline. The younger generation is pushing the demand and the expectation to have that aboard the aircraft. Airlines are really looking forward to getting on with LEO."
Hofeller noted that Starlink's current consumer-based internet offering provides service within a country's borders, but airline service will be provided across borders. "The deal we signed with Hawaiian Airlines opens up the transoceanic [coverage]," he said. "So, we have our inter-satellite links, which enables that capability, and that system is being deployed as we speak. We'll be able to be servicing folks intercontinental early next year."
Sperry said a big hurdle to overcome is a lack of awareness among airlines about LEO satellites and the IFC capabilities they can provide. "From our perspective, education is important," he explained. "Each airline has a different kind of mindset in what they understand about the [LEO] networks … The generation now and the generation upcoming really demands this on aircraft."
He added it is "not a question of if airlines are going to do it, but when."
Hofeller said many airlines currently have a view that technologies such as IFC should be upgraded only every 10 to 12 years. "That's completely misaligned with how technology develops," he said, adding: "If you're ultimately looking at what the best thing is for the passenger experience, you have to have the flexibility to get the best product for them" as soon as it is available.
Hofeller predicted airlines will be convinced when Starlink's services are on aircraft and "we show airlines the technology and what can be done." He added: "The product that we have is simple, it's lightweight, easy to install, and easy to de-install."
He said Starlink's LEO satellite constellation will continue to grow and provide increasingly robust coverage. The company is building eight satellites a day at its Seattle-area manufacturing facility. Hofeller added that Starlink is telling airlines it will handle all aspects of its service, enabling fast troubleshooting.
"I think the beauty of our system is that we are completely vertically integrated," he explained.
But some airlines will need to be persuaded to end current IFC contracts early, Hofeller said: "I know the aviation industry is focused on long-term cycles and that doesn't necessarily align with the adoption of new technologies, but we're hoping to disrupt that [and convince airlines] not to be stuck into a legacy contract that's seven years old."
Just as airlines need to learn about Starlink and LEO satellites, Starlink needs to become more familiar with the airline industry, Hofeller conceded: "We're new at this. We're going to adapt … We're not stuck in a particular way."
This article was first published by Avionics International, one of the two Access Intelligence publications behind the Connected Aviation Intelligence Summit.