Sponsors
2019 Sponsor & Exhibitor Opportunities
You are invited to be a part of the largest gathering of major airlines, key industry decision makers and technical experts in the area of global connectivity and brand yourself as a leader in connectivity innovation by sponsoring and exhibiting at the 2019 Global Connected Aircraft Summit.
2018 Fast Facts:
Over 300 attendees
Over 30 airline attendees
Over 20 countries represented
Attendee titles include:
President/General Manager
Director/Manager Business Development
VP/Director Strategy
Program Manager
Analyst
Engineer/Research Engineer
VP/Director Operations
For more information on sponsorship opportunities or to receive a copy of the sponsorship prospectus, please contact:
Joe Milroy
Publisher
Via Satellite, Global Connected Aircraft Summit & Cybersat
+1(215)-489-0585
Mike Coon
National Sales Manager
Avionics, Global Connected Aircraft Summit, Avionics for NextGen
+1 (240) 447-9472
Sponsorship Opportunities
Partners

In an industry where change comes fast and from many directions, a steady source of insightful and pertinent analysis is invaluable.
Airline Weekly
examines the airline industry with an international business perspective. We keep an eye on who's flying where, new marketing approaches, critical airline and airport data, and – most importantly – Airline Weekly provides in-depth articles about the always-challenging airline marketplace. Energy prices, labor disputes, sky congestion, expanding economies, government regulation and deregulation – the list of market variables is as boundless as the sky itself. Every Monday,
Airline Weekly
helps subscribers sort through these variables.

World ATM Congress (www.worldatmcongress.org)
Now entering its sixth year, World ATM Congress is the world's largest international air traffic management (ATM) exhibition and conference attracting over 7,500 people each year.
Operated by the Civil Air Navigation Services Organisation (CANSO) in partnership with the Air Traffic Control Association (ATCA), World ATM Congress brings together the world's leading product developers, experts, stakeholders, and air navigation service providers (ANSPs). Aviation thought leaders gather for three days of conference sessions, product demonstrations and launches, contract closures, and educational and networking opportunities in Madrid, Spain. Why attend? Get unparalleled insight into key issues in the ATM industry, hands-on experience of the latest products and innovation, and potential to increase brand awareness all in one place – save time and increase revenue. World ATM Congress delivers the context, content, and contacts that suppliers and customers need to shape the future of global airspace. World ATM Congress. The ATMosphere for business.

As the monthly publication of the Aircraft Electronics Association (AEA), Avionics News magazine is the voice of the general aviation electronics industry and is the largest, single representation of repair stations in the world. It is read by industry decision-makers, including the owners, managers and technicians of Part 145 repair stations who sell, service and install avionics, as well as maintenance facilities and fixed-base operations. They are in the position to recommend products to the end-users – their customers. Avionics News also is read by thousands of general aviation aircraft owners and pilots, as well as regulatory professionals from government agencies across the globe. It is available in print and digital online formats, as well as a mobile app for iOS devices. Complimentary subscriptions are available at www.avionicsnews.net.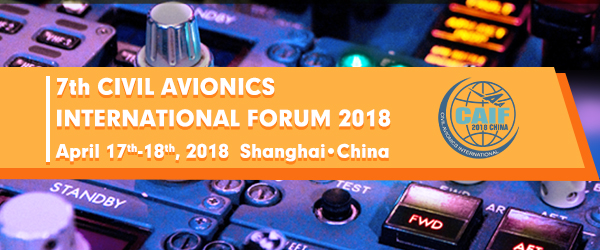 With more than 2000 delegates from 20 countries spanning 5 continents, the annual Civil Avionics International Forum (CAIF) has proven to be a truly global avionics forum since its inception in 2012. The CAIF is the only conference of its kind that gathers together international civil avionics industry leaders to discuss the growing demand within the Chinese market.
Participants have included aircraft OEMs such as Boeing, Airbus and COMAC, along with the four major avionics systems suppliers in China: Honeywell, Rockwell Collins, Thales Avionics and AVIAGE Systems. The CAIF is also the only avionics conference to be both endorsed by the Chinese government and organized by the AVIC Avionics System Group with support from all the major Chinese civil aviation manufactures; and represents the largest platform for buyers of international avionics products and services in China. Please send emails to marketing@galleon.cc for more information.

Inflight is the world's premier independent provider of news, analysis and dedicated events for the IFEC and cabin technology sectors.
The Inflight media portfolio provide decision-makers in these rapidly evolving markets with an unbiased overview including expert analysis, news on the latest developments, event previews and reports. Inflight magazine, published bi-monthly, reaches an audience of 18,750 industry professionals, including representatives from over 260 operators around the world. The publication is supplemented by a dedicated news website, weekly e-newsletter and widespread social media coverage.
Inflight also hosts its own industry event series, the Inflight Pavilion, Workshop and Awards held annually in the Middle East and Asia-Pacific regions.

Runway Girl Network
is unlike any other aviation news service in the world. Representing a collective of talented aviation journalists, the award-winning outlet combines deep industry intelligence with first-hand knowledge of the airline passenger experience (#PaxEx on Twitter) to provide unrivaled news and insight to both industry stakeholders and the traveling public. An inherently social site Runway Girl Network is transforming the traditional aviation B2B trade news model to encompass a B2B2C model to consider passengers' needs and wants. It provides coverage across four key categories: Passenger Safety, Comfort, Connectivity and Services. Runway Girl Network also serves as a
'Lean Into Aviation' platform for highlighting the achievements of women in aviation
, promotes equality, and celebrates culture, compassion and diversity.