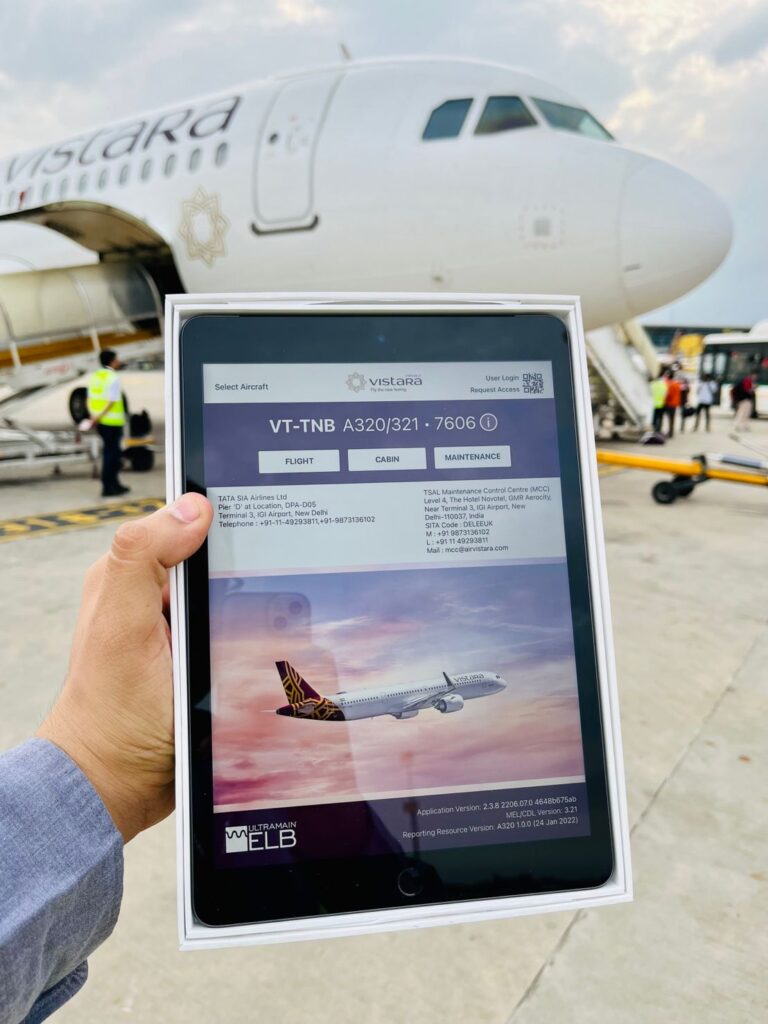 Vistara's latest investment in digital technology upgrades for its commercial aircraft fleet will feature the Delhi, India-based airline's adoption of Ultramain's electronic logbook (ELB) technology, according to a July 25 announcement.
While Vistara has declared itself as the first airline in India to embrace ELB technology, the carrier is still seeking necessary approvals before fully making the transition to paperless passenger carrying operations. The selection of Ultramain's ELB software comes several months after the airline upgraded its cockpit connectivity in February.
Sisira Kanta Dash, Vistara's vice president of engineering and maintenance, commenting on the Ultramain investment, said the ELB will "be integrated with various live processes like [Aircraft Maintenance and Engineering Operating System] AMOS, [Aircraft Communications Addressing and Reporting System] ACARS, and ARMS for seamless operations. This application, with its completeness and ease of use, is one step towards building enterprise application integration while also focusing on sustainable operations."
Ultramain's ELB technology has increased in popularity among commercial airlines over the last decade with its ability to provide a paperless system-of-record for every system fault, repair need, and component malfunction on a per-flight basis. According to the company's breakdown of how the ELB software works, it exists both within the tablets used by flight crews and onboard Aircraft Interface Devices (AID). This enables data about the performance and health of individual aircraft components and systems to be seamlessly shared between the mobile devices, onboard aircraft data acquisition systems, and ground-based maintenance information capturing and analysis systems used by airlines.
The company specifically references the Airbus A350 and the Boeing 787 and 777 as some of the aircraft models that the ELB software is compatible with in terms of standard in-production avionics systems. Avionica, Collins Aerospace, and Teledyne are also referenced by Ultramain as some of the avionics systems suppliers whose equipment the ELB software can use as a secure Wi-Fi access point to connect the aircraft's databus network.
Vistara's selection of Ultramain is the second major airline deal announced by the company this year, following a similar ELB software agreement reached with Scandinavian Airlines System (SAS) in May.