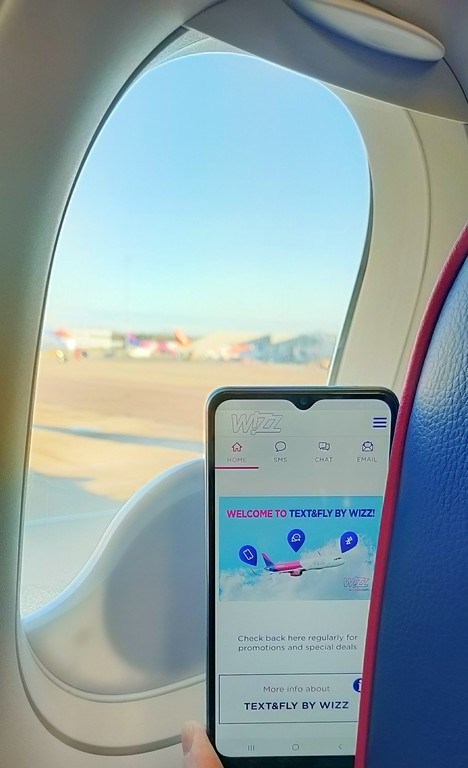 Wizz Air, the Hungarian low-cost airline, is adding in-flight connectivity to its U.K.-based fleet of Airbus A320 and A321 aircraft under a new agreement with AS-IP Tech, Inc.
Under the new agreement, Wizz Air will integrate AS-IP Tech's fflya Bluetooth platform into its mobile app and provide free SMS, WhatsApp messaging, and email to its passengers. According to AS-IP Tech, their system is enabled by installing one single Bluetooth wireless access point and two window-mounted antennas affixed to both sides of the aircraft.
According to an update on the technology shared by AS-IP Tech in November, some Wizz Air passengers have already been using the technology on U.K.-based A320 and A321 routes operated by the airline. Although AS-IP Tech provides very little details bout how its technology works, their antennas and Bluetooth access points leverage connectivity provided by the Iridium Next satellite network.
In addition to passenger connectivity, fflya also transmits operational telemetry data from the A320 and A321 fleet operated by Wizz Air. Wizz Air is promoting the upgrades to its U.K.-based fleet as "TEXT&FLY BY WIZZ."
"Following months of successful flight testing, we are delighted to be selected by Wizz Air pioneering our new generation of in-flight connectivity," ASIP Tech President Ron Chapman said. "We look forward to working with WIZZ and building on our unique messaging technology that provides the foundation for enhanced services including, inflight live payment, real-time telemetry and E Commerce."
The connectivity and messaging services will be provided free of charge to customers, according to Wizz Air.