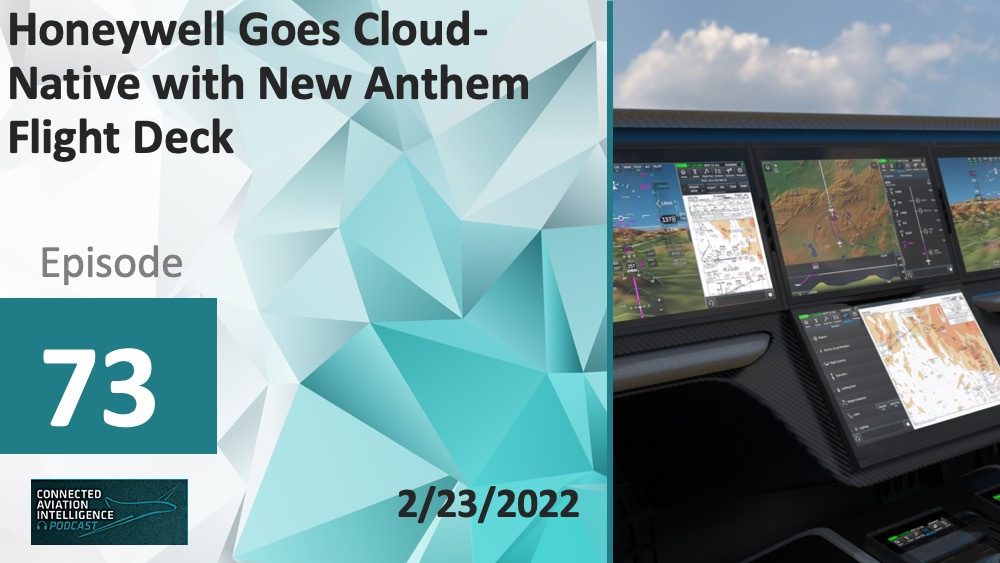 On this episode of the Connected Aviation Intelligence Podcast, Jason Bialek, Honeywell Anthem Product Line Director, and Jed Johnson, a Pilatus PC-12 and PC-24 pilot, discuss Honeywell's new cloud-native Anthem flight deck.
Honeywell first launched its new cloud-native Anthem flight deck during an unveiling ceremony in October. Lilium, the Munich-based electric vertical takeoff and landing (eVTOL) developer, has announced Anthem as the cockpit system for its 7-Seater Lilium Jet. Separately, Bristol, U.K.-based Vertical Aerospace will also use Anthem as the cockpit system for their VA-1X all-electric air taxi.
Bialek and Johnson provide an overview of how this new all-touchscreen connected flight deck could transform the way pilots fly while giving some insight on their current stage of development for Anthem in 2022.
Have suggestions or topics we should focus on in the next episode? Email the host, Woodrow Bellamy, at wbellamy@accessintel.com, or drop him a line on Twitter @WbellamyIIIAC. Also, check out the agenda for the 2022 Connected Aviation Intelligence Summit just posted to our event website!
Listen to this episode below, or check it out on iTunes or Google Play. If you like the show, subscribe on your favorite podcast app to get new episodes as soon as they're released.