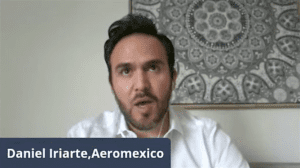 On this episode of the Connected Aircraft Podcast, we feature an interactive roundtable session from the second installment of the Global Connected Aircraft Summit's 2020 "Cabin Chats" series that occurred Sept. 22-24.
Daniel Iriarte, a member of the Onboard Product-WiFi/IFE team at Aeromexico, joined a panel discussion moderated by Mark Holmes, editorial director for Via Satellite, and other guests including Intelsat Principal Product Marketing Manager for Aero, Khali Heath, and Director of Aero Products, Mark Richman. Iriarte took questions from all three panelists and the audience, while also engaging in a unique discussion with one of the three companies that provides in-flight Internet service across their aircraft.
The discussion provides some unique insight into how Intelsat will move forward with its plans to close an acquisition of Gogo's commercial aviation IFC business, while Iriarte also provides some perspective on why his airline is keeping the Wi-Fi service active across its entire fleet despite the economic impact of COVID-19 forcing a major internal restructuring.
Have suggestions or topics we should focus on in the next episode? Email the host, Woodrow Bellamy at wbellamy@accessintel.com, or drop him a line on Twitter @WbellamyIIIAC.
Listen to this episode below, or check it out on iTunes or Google Play If you like the show, subscribe on your favorite podcast app to get new episodes as soon as they're released.